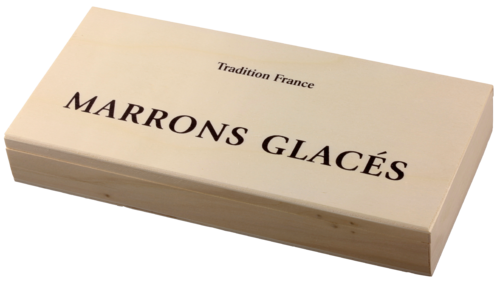 Wooden box - Unbranded
Unbranded wooden box- Available in 4 sizes:
12 Marrons Glacés (210 -240 g).
18 Marrons Glacés (340- 380 g).
30 Marrons Glacés (570-620 g).
42 Marrons Glacés (800-850 g).
The boxes are filled with Marrons Glacés on golden base cards, wrapped in golden foil and placed in cavity trays.
Candied Chestnuts with a thin sugar glaze. Mellow texture. The subtle note of Madagascar Bourbon vanilla beans enhances the flavour of the candied chestnuts.
Origin of Fruit: Turin or Naples.
Size: 20 g or 21/23 g.
Sale for retail stores.
Shelf life: Best within 3 months (October to April) to 2 months (May to September)
Store in a dry place at + 6 to + 8 degrees C.
Packaging: each box is sealed in plastic film for optimal freshness. The plastic film should not be removed until the Marrons Glacés are ready for consumption.
Packed: 11 boxes of 12 Marrons Glacés to a carton.
8 boxes of 18 Marrons Glacés to a carton.
5 boxes of 30 or 42 Marrons Glacés to a carton.