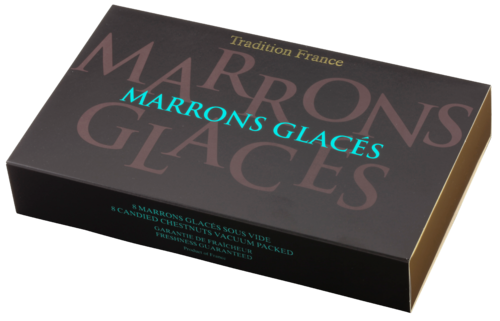 Vacuum packed marrons glacés - Unbranded tray box
Unbranded box available in 3 sizes:
8 "Marrons Glacés" (160 g).
12 "Marrons Glacés" (240 g).
20 "Marrons Glacés" (400 g).
The vacuum-sealed boxes are filled with "Marrons Glacés" on golden base cards, wrapped in golden foil and placed in cavity trays.
Candied Chestnuts with a extremely thin sugar glaze. Mellow texture. The subtle note of Madagascar Bourbon vanilla beans enhances the flavour of the candied chestnuts.
Exclusive production process: the vacuum-packed candied chestnuts are free of additives and preservatives and have a shelf life of 24 months. This is a fresh, natural product available throughout the year.
Size: 20 g.
Uses:
Sale for retail store throughout the year.
Sale on duty free stores.
Ideal for export markets (neither special storage conditions, nor temperature transportation).
Shelf life: 24 months in the vacuum–pack.
Store at ambient temperature. After opening, store the Marrons Glacés at a temperature of 6 to 8 degrees C for a maximum of 8 weeks.
Packaging: each box is sealed in plastic film.
Packed: 12 boxes of 8 or 12 Candied Chestnuts to a carton.
6 boxes of 20 Candied Chestnuts to a carton.