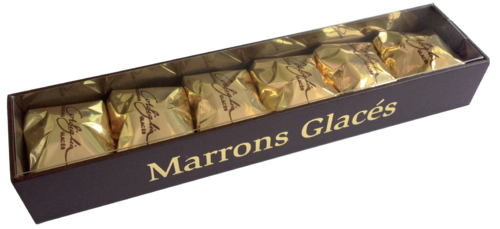 Luxury case of 6 Marrons Glacés
Luxury case with clear PVC lid. Can also be sold with a customize ribbon seal.
The boxes are filled with 6 Marrons Glacés on golden base cards, wrapped in golden foil.
Candied Chestnuts with a thin sugar glaze. Mellow texture. The subtle note of Madagascar Bourbon vanilla beans enhances the flavour of the candied chestnuts.
Origin of Fruit: Turin or Naples.
Size: 20 g or 21/23 g.
Sale for retail stores.
Shelf life: Best within 3 months (October to April) to 2 months (May to September)
Store in a dry place at + 6 to + 8 degrees C.
Labelling: ingredients, batch number and "Best Before" date.
Packed: 12 luxury cases to a carton.