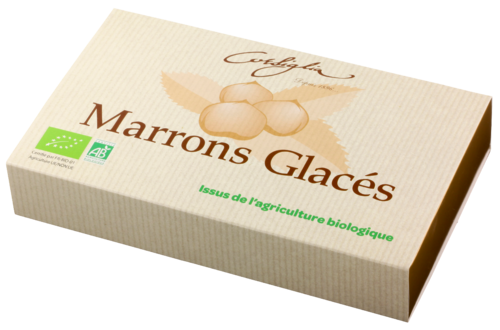 Vacuum packed organic "Marrons Glacés" - Corsiglia logo
Vacuum packed gift box (Corsiglia branded) with 8 certified organic "Marrons Glacés" 160 g.
ORGANIC: All our ingredients are certified organic and our production process is Ecocert-certified.
The vacuum-sealed boxes are filled with "Marrons Glacés" on golden base cards, wrapped in golden foil and placed in cavity trays.
Candied Chestnuts with an extremely thin sugar glaze. Mellow texture. The subtle note of Madagascar Bourbon vanilla beans enhances the flavour of the candied chestnuts.
Exclusive production process: the vacuum-packed candied chestnuts are free of additives and preservatives and have a shelf life of 24 months. This is a fresh, natural product available throughout the year.
Size: 20 g each chestnut.
Uses:
Sale for retail store throughout the year.
Sale on health stores. On organic stores or corners.
Ideal for export markets (neither special storage conditions, nor temperature transportation).
Shelf life: 24 months in the vacuum –pack.
Store at ambient temperature. After opening, store the "Marron Glacé" at a temperature of 6 to 8 degrees C for a maximum of 8 weeks.
Packaging: each box is sealed in plastic film.
Packed: 12 boxes of 8 "Marrons Glacés" to a carton.