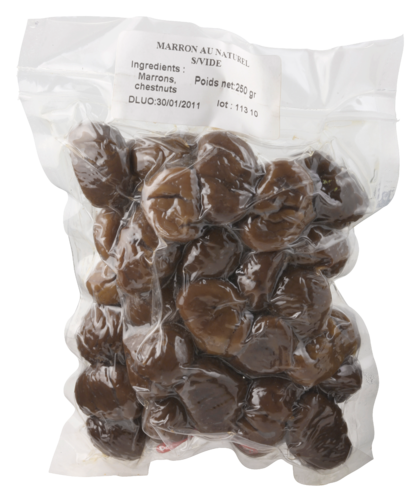 Steamed chestnuts in vacuum pack
Shelled chestnuts, vacuum-cooked in pouch.
Colour: light brown.
Texture of blanched fruit.
Chestnut taste.
Origin of the Fruit: Collobrières which is a nice and typical village in the south of France where the chestnuts trees gives a wonderful and tasty fruit.
Size: 10/12g.
For use in retail stores: fine-food shops, and delicatessen.
Shelf life: Best within 12 months.
Preservation: Use chestnuts in confections after opening.
Packed in 250-g or 500 g pouches.
Packed 36 pouches to a carton (250g) or 22 pouches to a carton (500g)