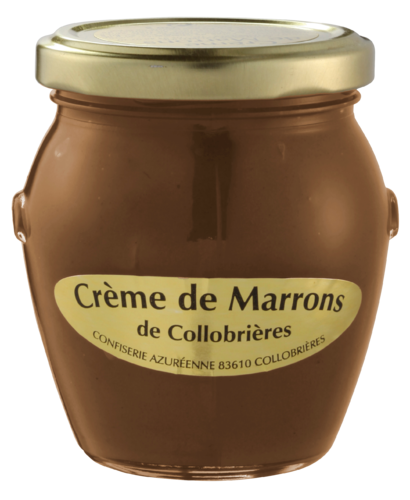 Chestnut cream jar 220gr from "Collobrières"
Confection with a supple, mellow texture made with 55 % candied sweet chestnut pulp, 45% cane sugar and lightly flavoured with Madagascar Bourbon vanilla bean. Vacuum cooking at 60°C is used so as to preserve the full flavour of the fruit.
Colour: brown
Sweet chestnut taste enhanced with the subtle note of Madagascar Bourbon vanilla beans.
Origin of the Fruit: Collobrières which is a nice and typical village in the south of France where the chestnuts trees gives a wonderful and tasty fruit.
For use in retail stores: pastry shops, fine-food shops, and delicatessen.
Shelf life: Best within 3 years.
Preservation: Store in the refrigerator after opening.
Packaging: 220-g jar of candied chestnuts
Packed 12 jars to a carton.