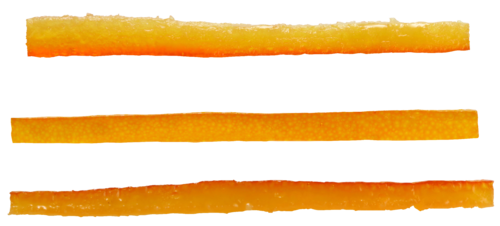 Straight candied orange slivers 7.5-8 cm with tray arrangement
Candied orange peel.
Syrupy and mellow texture.
Colour: light orange.
Orange flavour, no bitterness.
Origin of Fruit: Spain.
Shape: straight.
Dimension: 7.5-8 cm in length.
For professional use: for chocolate fork-dipping or coating and for pastry decorations.
For retail stores: candied fruit.
Best within 6 months.
Store in dry place at 6 to 8 degrees C.
Packaged in 1- kg thermoplastic trays.
Packed 12 trays per carton.