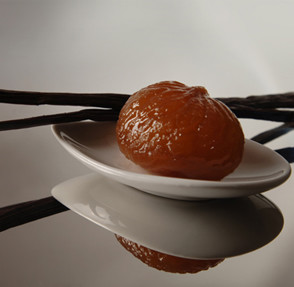 New Developments
03/10/2014
CORSIGLIA : winning acclaim for innovation
November 2009 : Sales agreement for Kacher "Marron Glacé", "Chestnuts in syrup", "Chestnuts Past and Cream". The Kacher, grade "LAMEHADRINE PARVE" agreement was awarded after a review of our ingredients and manufacturing process.
January 2010 : Sales agreement for Organic Chestnuts in Syrup and Candied Chestnuts.
April 2010 : Launch of our "gourmet cubes", a confection of candied cubes of orange, lemon and amarena cherries. It is particularly well-suited for use in fruit cakes and brioches.
September 2010 : Launch of our Orange Paste, an elaborate confection used for filling macaroons or cakes.
November 2010 : Innovation. New cooking and candying process for "Marrons Glacés". It enhances the flavour of the chestnut and balances its sweetness while retaining the moisture at the heart of the fruit.